On Sale
Outdoor Climbing Transition
This course is for intermediate climbers looking to set up their own ropes outdoors. Whether you climb lead or top rope indoors or have previously tried outdoor rock climbing, this course will teach you how to build an anchor, clean an anchor and rappel. 
This course can also be adapted for those who lead climb indoors and want to transition to lead climbing outdoors.
This course is offered in English and/or French.
Location: 
Rigaud, QC
Climbing Experience Requirement
Belaying required
Technical Difficulty
Advanced
Physical Difficulty
Advanced
Climbing Experience Requirement
Belaying required
Technical Difficulty
Advanced
Physical Difficulty
Advanced
Course Content
● Safety standards in the outdoor climbing environment
● Climbing equipment and their application
● Climbing knots and their application
● Building a top rope anchor
● Cleaning an anchor by getting lowered and by rappelling
● Building an anchor on a tree
● Rappelling from a sport anchor and a tree
● Perfecting belaying technique and use of different devices
● Overview of self-rescue
● Risk assessment
● How to read a guide book
● Gear management
● Rope management
Pre-requisite:
● Must know how to belay on top rope
● At least 3 months of experience climbing (top rope or lead)
● Must be comfortable to climb 5.9 indoors
● Age minimum: 18 years old
● Must be able to hike 2 km uphill
What's Included
● Rock climbing gear rental (rope, slings, cordelettes, carabiners, personal anchor system, helmet, harness)
● Course Content for 2 days
● Plenty of time to practice acquired skills
What's Not Included:
● Transportation to Rigaud
● Entrance fee ($5/person/day)
Group Size:
The group size remains small at a maximum of 4 participants. You however do not need a partner to book and will be grouped with other participants.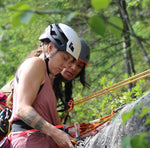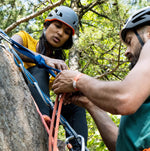 Itinerary
DAY 1:
- Learning important knots
- Application of the knots on sport and natural anchors
- Learning how to make an anchor
- Practice rappelling on ground
DAY 2:
- Review course content of Day 1
- Practice building anchors using different equipment
- Practice rappelling
- Cleaning anchors
Location: Rigaud, QC
Testimonials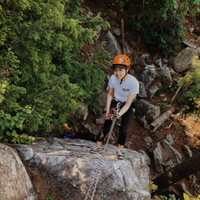 I took the two-day anchor building workshop with Emma and absolutely loved my experience. Her patience, energy and ability to explain things in a simple and logical progression make her a wonderful teacher. Most importantly, after taking her class, I feel confident and capable of setting up safe anchors on my own.
Kristine M.
Emma est tellement douce, patiente, compétente et agréable !! Je surmonte constamment mes peurs et elle m'a tellement bien outillée à me sentir en sécurité et à y faire face! Je conseille vivement le cours de transition moulinette, les sorties d'escalade, et plus !
Patricia G.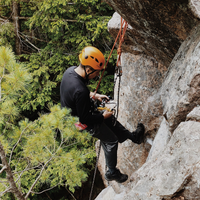 As an Instructor, Emma is well organized and will take the required time to ensure everyone understands. Generally, there is also sufficient time to get multiple repetitions for a person to properly assimilate the concepts in question.
James M.