On Sale
Introduction to Rock Climbing
Join this one-day outdoor rock climbing course near Montreal, Quebec.
This trip is for anyone from complete beginners to frequent indoor climbers looking to try climbing outdoors.
Accompanied by a certified instructor, you will be climbing on top rope and learning how to tie into the rope and how to belay, as well as climbing tricks and techniques.
This course is offered in English and French.
More about the course
This day trip is focused on providing you with an amazing climbing experience outdoors. You will be accompanied by an experienced and FQME-certified instructor and learn the fundamentals of rock climbing with a rope. You will get to climb as much as you want while learning new skills.
Location: Rigaud, QC
Duration: Full Day (8 hours)
Who It's For
- Anyone who is curious about outdoor rock climbing
- Anyone who would like to transition from indoor to outdoor rock climbing but have never climbed outdoors before
- Age minimum: 18 years old, unless accompanied by an adult
- Must be able to hike 2 km uphill
- No climbing experience or pre-requisite is required
- Beginners are more than welcome, even if you've never climbed before
Course Content
- Essential climbing equipment
- How to safely belay a climber
- How to lower a climber
- Learn knots and how to tie into the rope as a climber
- Safety rules in the outdoor climbing environment
- Communication in climbing
- Climbing movement tips and techniques
- Lots of climbing!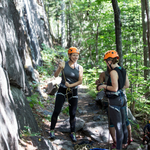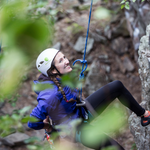 What's Included ?
- Rock climbing gear
- Harness
- Shoes
- Helmet
- Chalk & chalk bag
- Belay device and carabiner
- Rope
- Top Rope guiding service
- Top rope techniques that you can use to get certified at an indoor gym
- Outdoor climbing skills

What's Not Included:
- Transportation to Rigaud
- Entrance fee ($5/person/day)
Testimonials
"An absolute amazing experience with Climbing Escapes!! Emma is an excellent instructor - knowledgeable, patient, encouraging, positive and passionate. I didn't have experience with rock climbing and with Emma's guidance and expertise, she totally made me comfortable, at ease and confident to climb."
Jackie M.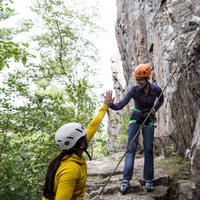 "Truly a wonderful experience with Climbing Escapes! No experience at rock climbing whatsoever, Emma is truly a professional & a great instructor to have. Very knowledgeable, encouraging, and patient with everyone. She made sure that we were all secure in our gear and climb."
Threcia J.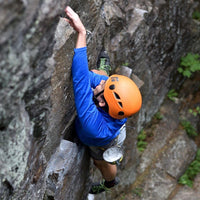 Belle experience de varappe en nature grâce à Emma, pro, calme et souriante. Elle nous a bien organisé une superbe journée à 45 min du centre ville et s'adapte à tous les niveaux avec patience et passion. Je recommande.
Stephane T.